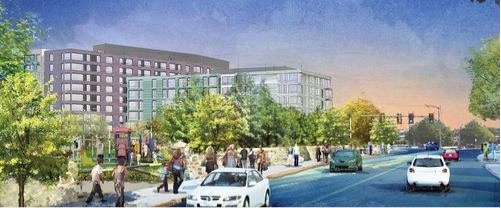 This upcoming Thursday, the final touches will be made to a new development, which resides at 201 North Harvard between North Allston and Harvard University's southern campus. What brands Continuum as "prime location real estate" is it's close proximity to public transportation, the Mass Pike, and it's surrounding lush green layout, made up from the Smithfield Park and Charles River.
The development at Barry's Corner will be made up of 300,000 sq. ft. of residential space, making for 325 residential units, and 35,000 sq. ft. of retail space. Living in this community anchor will always ensure interesting buzz, plush amenities, and a convenient commute for tenants.
Curbed Boston, quoting a release from Samuels & Associates, explains the vision for the redevelopment: "'[It] will advance the community's vision of a vibrant neighborhood gathering place in the heart of Allston's rock city, with more walkable streets, services and amenities for everyone to enjoy.' All part of a grand plan to make Barry's Corner the new Davis Square."
Preleasing will be made available upon January, 2015.